Mobile Kitchen Trailer – Elite Model – Exterior
Our Elite model mobile kitchen trailer is one of our most popular models
It's size is suitable for most, as it has ample free space inside but still easily transportable.
The exterior of the Elite model is manufactured from high grade insulated panels and a
rugged support system that is hidden for maximum aesthetic appeal. The trailer chassis is
SABS approved and the suspension is suitable for off-road and rural area exploration.
The Elite mobile kitchen food vending kiosk trailer comes with a serving hatch that is fitted
with high grade gas stays, hinges, pvc sealing rubbers, gutter system, and locking system.
It also has a stabilizing system that is adjustable to the terrain so that it is stable at all times.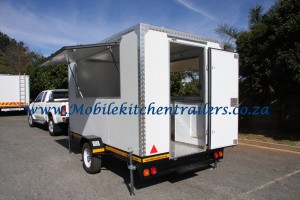 Mobile Kitchen Trailer – Elite Model – Interior
Our Elite mobile kitchen comes standard with the following interior
Display cold drink/beverage fridge
Deep freezer chest type top loading
Deep fat fryer single pan
Flame griller – ribbed top for meats
x3 Food warmers burner operated
Stove with 2 plate burners
Sink stainless steel fitted into working surface
water tank with plumbing system
working surface
Fire extinguisher
Gas pipe lines
Electrical wiring
DB electrical board
Interior lighting
power plug points
All trim and finish to be stainless and aluminium